Biography, Dr. Norman "Storm" Robinson III
The Board of Trustees has appointed Norman "Storm" Robinson III, Ph.D. to the position of Interim President effective May 1 – June 30, 2021. Dr. Robinson currently serves as the Chief Innovation and Education Officer. Under Dr. Robinson's leadership and as a recognized STEM leader, there has been an exponential impact creating innovative and transformative STEM learning experiences. This includes increasing the number of educators trained from 3,000 in 2017 to over 9,000 teachers in 2020, demonstrating a gain of over 170%. He has also doubled the number of students benefiting from IMSA programs by expanding the reach of programs, from domestic to global impact.
Dr. Robinson spearheaded the adoption of an online learning platform that upskills educators and drives equity by broadening reach and access as well as the design and implementation of a virtual learning management system that facilitated IMSA's response to the COVID-19 pandemic. In FY 21, he has been responsible for helping IMSA reach more than 1,759 non-IMSA students through STEM enrichment programs, 40% of which come from underrepresented backgrounds, and 4,500 Illinois educators through professional development. Recently, the Global Forum for Education and Learning named Dr. Robinson to their 2021 100 Top Visionaries in Education.
Prior to joining IMSA, Dr. Robinson served as Program Director of the Center for Education Integrating Science, Mathematics and Computer at the Georgia Institute of Technology, Education Specialist at NASA and the National Institute of Aerospace and a Mathematics teacher at several magnet and public schools in South Carolina and Georgia. He earned a B.S. in Mathematics from Tennessee Technological University, an M.S. in Natural and Applied Sciences from Oklahoma State University and a Doctor of Philosophy in Teaching and Learning/Mathematics Education from Georgia State University.
"I am honored to continue Dr. Torres' work and bridge his legacy of equity and excellence, with strong values and steadfast determination," says Dr. Robinson.
"The Board gives its full support to Dr. Robinson and has the utmost confidence in his ability to serve as Interim President," says Roche.
---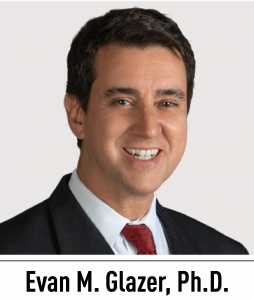 Dr. Glazer will assume the role on July 1, 2021.
The Board of Trustees of the Illinois Mathematics and Science Academy announces the appointment of Evan M. Glazer, Ph.D. as its fifth president.
Dr. Glazer, who hails from Illinois, has deep experience leading high performing, specialized secondary STEM schools with rigorous academic programs, including Thomas Jefferson High School for Science and Technology and Roanoke Valley Governor's School for Science and Technology. He currently serves as the Head of School for Avenues: The World School in New York.
"The Board enthusiastically agrees that Dr. Glazer is the best possible choice to lead IMSA at this key time in our history," says Dr. Erin Roche, Chair of the IMSA Board of Trustees and Chair of the Presidential Search Committee.
Having spent most of his career in progressive schools with interdisciplinary and project-based curricula, Dr. Glazer holds a deep regard for instructional and student-led innovation, diversity, equity and inclusion and ethics, all underpinned by a strong culture. He received a B.S. and M.S in Mathematics from University of Illinois Urbana-Champaign and a Ph.D. in Instructional Technology from the University of Georgia.
"I am honored to be selected as the next president of IMSA and to have the opportunity to work with an innovative team of trustees, leadership, faculty, and staff that will lead IMSA into the future," says Dr. Glazer.
"Being raised in the midwest, a student of STEM, and leading a STEM school is part of my core experience and identity," he adds.
"It is such a privilege to be invited to join this very special community and to imagine our work together as we write the next chapter of this remarkable institution," Dr. Glazer says.
"I look forward to getting to know the people that make IMSA an incredible community for learning, growing and taking good care of one another," he concludes.