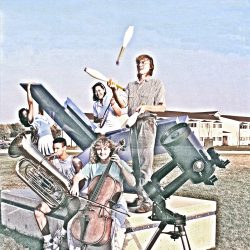 Now Live: IMSA Alumni Network
IMSA has built something incredible for you! Connect@Yare is an exclusive and easy-to-navigate virtual space just for IMSA alumni to reconnect and network. There are countless opportunities to reminisce, share news, build your professional network, support career development and so much more. Read The Story Behind Yare.
---
Welcome, Alumni!
We are so grateful for your interest, involvement, and support of IMSA. You are part of a special history – and we are thrilled that you are interested in continuing to stay in touch with IMSA as we continue to grow and thrive.
We warmly welcome all Alumni to participate in the IMSA Community. There are many ways to stay connected:
Volunteer for career panels or serve as a mentor.  Contact Tamara Newquist at tnewquist@imsa.edu
Support IMSA's greatest needs with a gift to IMSA
Attend an Alumni Reunion held every year on your class 5, 10, 15, 20, 25 and 30 year milestone.
Stay in Touch!

We publish a special Alumni Newsletter throughout the school year.  Please sign up for Connect at Yare to receive the newsletters, or reach out Tamara Newquist, Alumni Relations Coordinator, at tnewquist@imsa.edu

We would love to hear from you!

Please share news of your career, service, awards, weddings, family additions, business ventures, etc. – we will share your news in our "Alumni News" section.  Email Tamara Newquist, Alumni Relations Coordinator, at tnewquist@imsa.edu

Do you have new contact information?

Have you moved recently or changed your email, address or cell phone number? We want to be sure you get the latest news and invitations to alumni and school events. Please take a moment to update your information by emailing Tamara Newquist, Alumni Relations Coordinator, with your new information at tnewquist@imsa.edu