The Illinois Mathematics and Science Academy offers educators in Illinois and across the globe a MicroCertification as an IMSA Educator. This Micro-Certification qualifies an educator to be trained in and present IMSA Professional Development throughout their area.  The MicroCertification is structured in four micro-credentials representing IMSA's four core competencies. Educators can complete the micro-credentials individually or as part of a structured program. Each micro-credential consists of an introduction, 5 Learning Experiences (LEs) and a portfolio highlighting understanding and application. Educators who complete all four micro-credentials are awarded the MicroCertification as an IMSA Educator. The micro-credentials include:
• INQUIRY-BASED TEACHING – Inquiry-based teaching promotes analytic thinking, knowledge generation and application, and construction of meaning through mindful investigation driven by compelling questions that engage the learner's curiosity.
• PROBLEM CENTERED LEARNING – Problem-centered learning provides experiences in which learners grapple with complex, meaningful, open-ended problems of our world. Learners provide potential evidence based solutions or responses to these problems.
• COMPETENCY-DRIVEN CURRICULUM – Competency-driven experiences are those which enable students (1) to acquire strong bases of disciplinary content knowledge and skills; (2) to use the ideas, processes, and tools of the disciplines for acquisition and generation of new knowledge; and (3) to apply knowledge when addressing issues and solving real-world problems.
• INTEGRATED STEM – Integrative learning experiences are those which forge meaningful connections of concepts, constructs, and principles within and across academic subjects and real-world situations.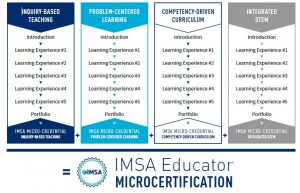 LEARNING EXPERIENCES
IMSA's MicroCertification includes in-person and/or on-line professional development focused on IMSA's four core competencies. These professional development opportunities are called "Learning Experiences". Learning Experiences are available to all educators at any grade level and discipline. Learning experiences consist of approximately 3 hours of professional learning which include a research base, pedagogy, and instructional strategies. Each Learning Experience (LE) is identified with a grade level band, content area, and instructional focus so that educators know what they will experience. Each LE also includes an "Apply and Reflect" assignment to promote professional reflection and conversation about their learning.
Upcoming Events:
FREE Introductory Courses:
Introduction to Inquiry Based Teaching – Register HERE
Introduction to Problem Centered Learning – Register HERE
Introduction to Integrated STEM – Register HERE
Introduction to Competency Driven Instruction – Register HERE
Professional Learning Experiences:
Gamifying Chemistry — October 1-31 —  Register HERE
Micro-credential: Inquiry Based     Grade band: 9-12    Format: Asynchronous   
CPDUs: 3 hours     Cost:: $50.00
Games can be a fun and motivating way to engage students, but they are often used as a means to practice, apply, or review learned content instead of introducing a new concept. In this Learning Experience, educators will explore the use of common games as a tool for an inquiry-based approach to introducing topics in high school chemistry such as atomic structure and periodic trends.
Learning Outcomes include:
Engaging in different levels of games that introduce a new chemical concept

Identifying the focus and analyzing the structure of inquiry-based activities

Reflecting on how to engage students in making observations and recognizing patterns when teaching abstract chemical concepts

Applying strategies for modifying familiar games into student-centered, inquiry-based learning experiences
Sound and Circumstance — October 1-31 — Register HERE
Micro-credential: Competency-Driven     Grade band: 3-12    Format: Asynchronous   
CPDUs: 3 hours    Cost $50.00

Educators will focus on the application of competency driven STEM-based instruction through experiencing a music and literacy centered instructional activity involving sensory cues and perception. While these activities focus largely upon content standards in grades 3rd-5th, the activities can be scaled to content in higher grade levels (6th-12th grades). Learning outcomes include:
Identify ways to integrate science and engineering practices in everyday phenomena.
Engage in activities designed to explore the effects of sensory cues on perception of events.
Explore and define components of competency-driven instruction within the experienced activities.
Code of the Wild — October 1-31– Register HERE
Micro-credential: Integrated STEM     Grade band: PreK-2    Format: 100% Asynchronous       
Cost $50.00     CPDUs: 3 hours
Code of the Wild introduces teachers to Computational Thinking (CT) and demonstrates a method by which CT can be integrated with other K-2 subject areas.  The example given is a curriculum that guides students in the use of a programming language called ScratchJr.  Students use the free software to write stories about animals interacting with their environments in a realistic manner.  After being written, these stories are coded into computer animations using ScratchJr.  Teachers will learn that CT is more than just coding, but a problem-solving mind-set that is applicable to science, math, ELA, and any other problem-solving endeavor.  Learning outcomes include:
Learning to use ScratchJr

Developing ideas for integrating CT with other subject areas

Developing ideas for helping students improve their collaboration skills while using tablets or computers
In addition to these learning outcomes, teachers will exit the course with a five-hour integrative STEM curriculum they can use in their classrooms.
Problem Centered Teaching by Tomorrow — October 1-31 — Register HERE
Micro-Credential: Problem Centered  Grade band: 9-12    Format: 100% Asynchronous    
Cost $50.00     CPDUs: 3 hours
Complex, Meaningful, Open-ended.  In this learning experience, educators will embrace the definition of 'Problem-Centered' and transform a standard worksheet or lesson into a problem centered activity. Furthermore, we will discuss strategies for successful implementation and establish a community of support for both the writing and implementation processes.
Create a problem centered lesson or activity based on an academic standard

Identify and apply four strategies to successfully implement problem centered instruction

Reflect on lesson implementation with a professional learning community