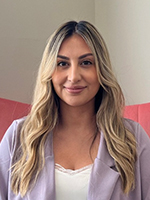 Airianna is serving as a Temporary Counselor until the end of the 2023 Fall Semester.
I am excited to join IMSA as a Temporary Counselor in my hometown! I know the importance of building foundational academic and social-emotional skills at this age, and how these skills can last a lifetime. I am humbled by the opportunity to positively impact a student's life! I am here to support and advocate for all students' needs/rights, as well as make sure that parents are informed about various available supports.
I provide a welcoming environment where my clients are unconditionally accepted, and through building a strong therapeutic relationship, feel comfortable to be their complete authentic selves. I recognize it takes courage to seek out support. I utilize an integrative blend of therapies, including Cognitive Behavioral Therapy, Dialectical Behavioral Therapy, Mindfulness, Solution-Focused Therapy, Psychodynamic, and Psychoeducation while being trauma-informed.
I have had the privilege of working in a residential substance use treatment facility where I worked with adults who suffered from substance use disorders. I have also helped navigate interactions with law enforcement, child welfare, domestic violence, and working with at-risk youth. These interactions have allowed me to provide case management, counseling, court services, and individual and group therapy with adults and adolescents. Due to working with a vast array of clientele, I now serve clients in a private practice setting in Elburn. I have found the power of a therapeutic relationship can create positive and healthy relationships to help individuals become more confident and successful as they navigate their lives.
Education and Qualifications
Undergraduate Degree in Psychology with a minor in Criminal Justice
Masters of Science in Criminal Justice, Psychology and Law
Masters of Forensic Social Work
Certified Alcohol and Drug Counselor, CADC