Our team is excited to work with you and your student, both virtually and in person!
Join our team in a variety of STEM-based programming opportunities that will expose your student to the world of science, technology, engineering, and math using hand-on activities, inquiry-based learning, peer-teaching, and last but certainly not least, fun!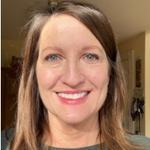 Gwen Seeley-Joosse
Director of Statewide Student Initiatives

As the Director of Statewide Student Initiatives at IMSA, Gwen works closely with faculty, staff, students, and outreach partners to design and deliver unique STEM experiences that help all students achieve their potential. Gwen is passionate about empowering students to see themselves as capable scientists and mathematicians!  She has over 25 years of experience in the education and not-for-profit sectors. Gwen holds a B.A. and M.S. from Northwestern University.
---

Carolyn Harvey
Curriculum and Professional Development Specialist

Carolyn is one of the Curriculum and Professional Development Specialists with the Statewide Student Initiatives Team at IMSA. Before IMSA, she worked as a Museum Educator at a Science Center, which is where her passion for creating hands-on, exciting STEM activities grew.  She loves seeing all of the "Aha!" moments on our participants' faces as they experience our programs. She earned her Master of Arts in Museum Studies from Western Illinois University after completing her undergraduate studies in Integrative Biology at the University of Illinois at Urbana-Champaign.
---

Christine Moskalik
Curriculum and Professional Development Specialist
Christine is passionate about STEM education and develops quality informal STEM programs. She enjoys working with IMSA students, as well as pre-service and in-service teachers across the state of IL, who help deliver our student STEM experiences. Prior to IMSA she taught high school and college biology and led various STEM outreach initiatives. Christine holds B.S. and M.S. degrees in Biology and an Ed.D in Educational Leadership.
---

Megan Scherer
Program Coordinator

Megan Scherer is a Program Coordinator and at the Illinois Mathematics and Science Academy in Aurora, Illinois. She graduated Magna Cum Laude from the Saint Louis University School of Education in 2013. She moved on to IMSA to focus on developing a passion for STEM subjects in all students, particularly those who might benefit most. Megan now creates and delivers programming on leadership and teaching skills for the IMSA  ALLIES program.
---

Dawn Waller
MetroEast Field Office Coordinator

Dawn oversees the coordination and delivery of enrichment programs for students in grades 3-12 in the MetroEast Region.  She is responsible for the regional marketing of IMSA's core programming and the cultivation of community relationships with regional constituents and stakeholders.  Dawn has worked in the informal education field for over twenty years.  As a former youth development educator, Dawn delivered staff training and youth programming in military and civilian communities.  Dawn holds a B.A. and M.S. from Southern Illinois University.
---

Emma Wilson
Administration Assistant

Emma Wilson is an Administrative Assistant for the Illinois Mathematics and Science Academy Statewide Student Initiatives team in Aurora, IL. She graduated from Central Michigan University with a B.A.A in Parks, Recreation, and Leisure Services Administration in 2020. She grew up attending different IMSA programs and is interested in working behind the scenes of STEM-based learning opportunities and programs that are beneficial to the youth that attends.
---

Elaine Wu
Curriculum and Professional Development Specialist
Elaine is a Curriculum and Professional Development Specialist with the Student Statewide Initiatives Team but she often describes her job as "being a big kid who gets to devise fun STEM activities to try out and then inviting kids from all over to explore/nerd out with her." Elaine received her B.S. degree in Psychology from the University of Illinois at Urbana-Champaign and her M.A.T. degree in Elementary Education from National-Louis University in Chicago.